The artificial intelligence software (AI) market in the legal industry is expected to record a CAGR of over 28% during the forecast period 2020-2025 according to Orbis Research report. AI is becoming the next major technology in terms of productivity and efficiency tools for law firms.

AI is an integrated result of information science in machine learning, computer vision, evolutionary computing, data mining, and multi-agency systems. AI transforms the daily practice of law, changing the skills and professionalism required by lawyers. Some of the AI applications in the legal sector include, but are not limited to, contract review and management, legal research, electronic invoicing, and electronic disclosure.

AI helps lawyers improve their productivity, which positively encourages market growth in the region. For example, according to IBM lawyers, adopting AI has shortened a lawyer's total time by analyzing trademark search results by about 50%. This includes algorithms that attempt to model the outcome of trademark litigation by analyzing the wide range of factors.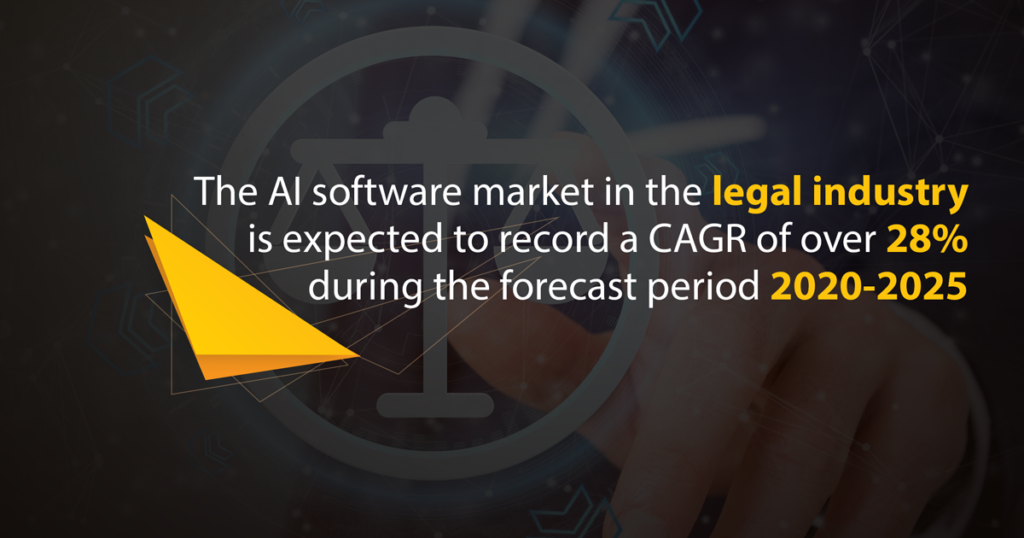 Increased demand for automation in applications such as contract review and management, electronic discovery, case prediction, and compliance are positively driving market growth. Automating contract management increases the sales team's ability to complete contracts, improve customer relationships, and impact many other areas of the organization so companies can gain real, tangible value.

The corporate legal department segment is expected to experience the highest growth rate during the forecast period, as AI legal software and platforms help them reduce costs and simplify work and processes, reduce repetitive tasks, and increase productivity.

According to a survey of more than 100 law firms conducted by the real estate company CBRE, 48% already use AI software in their businesses and 41% have immediate plans for the same. The survey found that 61% of companies use AI to generate and review legal documents, 47% for in-depth audits, and 42% for research.

The market is witnessing the increase in the adoption of AI solutions to efficiently manage the entire legal process. For example, internal legal departments spend 50% of their time reviewing contracts, including basic ones like the Non-Disclosure Agreement, creating unnecessary bottlenecks and slowing down business activities. AI helps lawyers focus their evaluations on the relevant segments of each contract, saving countless hours of work.

The market for AI software in the legal sector is neither integrated nor fragmented, as many large companies and startups have established a good presence in the market. The market is growing and, over the forecast period, market competition is expected to be intense due to the arrival of new players. Suppliers offer solutions and platforms for different applications based on the needs of the end-user. Companies are adopting a number of organic and inorganic growth strategies, such as solution improvements, partnerships, agreements, and mergers and acquisitions to increase their presence in the global AI legal market.

For more information about this report visit Orbis Research