As businesses continue to adopt digital technologies in their operations, the amount of data they collect and process has increased significantly. The General Data Protection Regulation (GDPR) was introduced to ensure that businesses protect the privacy and data of their customers, serving as a set of rules and regulations governing how companies collect, use, and store data of EU citizens.


Failure to adhere to GDPR can result in hefty fines, which can be as high as 4% of a company's global annual revenue. This means that non-compliance can have a significant impact on a company's bottom line. In addition to the financial penalties, it can also damage a company's reputation and customer trust, as customers are becoming increasingly aware of data privacy issues, and they are more likely to do business with companies that take data protection seriously.


What can AI do to assist GDPR Compliance?


It is no secret that AI is changing the way companies operate and manage their businesses. With the increasing demand for data privacy and security, GDPR compliance has become a critical concern for businesses across the globe.


Intelligent Processing Automation (IPA) can play a significant role in supporting GDPR compliance efforts. IPA utilises AI and ML algorithms for:


Automation of Data Identification: IPA tools can automatically scan and analyse documents, identifying sensitive information like personal data, financial details, and other GDPR-regulated content. This accelerates the process of data discovery, making it easier to locate and manage personal data within documents.
Efficient Consent Management: IPA systems can extract and categorise consent-related information from documents, such as consent forms or agreements. This ensures that the organisation has proper records of user consent, a key requirement of GDPR, and enables efficient management of consent data.
Subject Access Requests (SARs) Handling: GDPR grants individuals the right to request access to their personal data held by organisations. IPA can streamline the process by automating the extraction of relevant data from various documents, making it faster and more accurate to respond to SARs.
Recordkeeping and Documentation: GDPR requires maintaining comprehensive records of data processing activities. IPA tools can assist in compiling and organising necessary documentation, extracting relevant information from contracts, agreements, and communication for recordkeeping purposes.
Data Breach Notification: In case of a data breach, timely reporting to authorities and affected individuals is crucial. IPA can assist in quickly identifying impacted data and generating the necessary breach notification documents, ensuring compliance with GDPR's reporting timelines.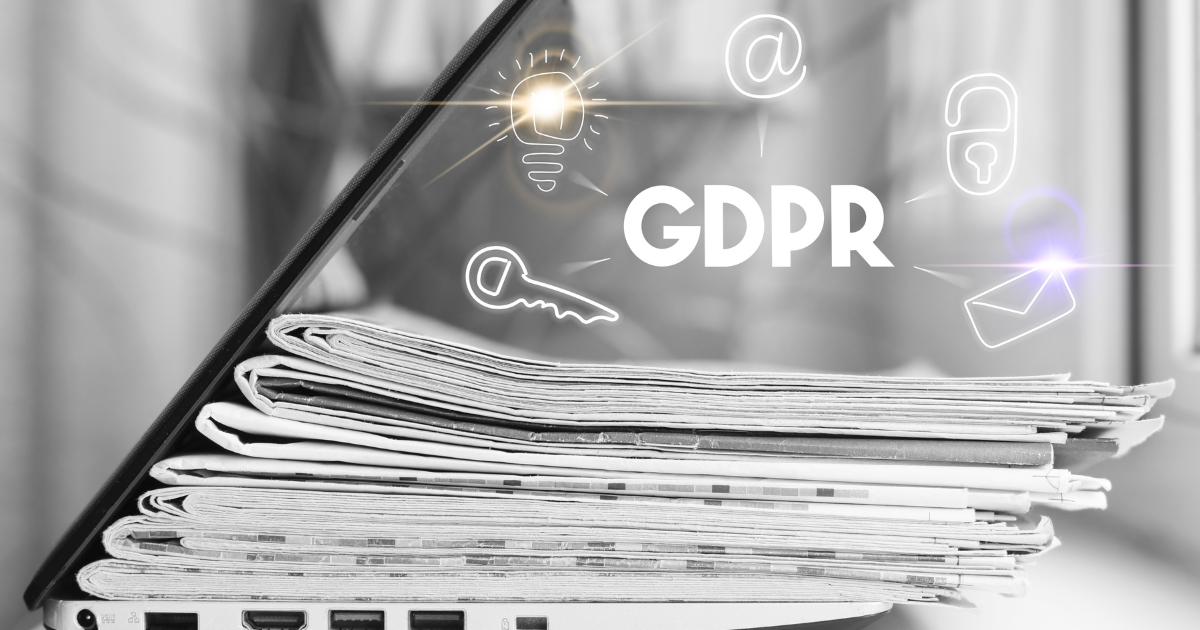 Financial sector benefits from AI-powered GDPR compliance
In the financial services sector, companies are utilising AI-powered systems to improve data security and strengthen fraud detection while ensuring compliance with GDPR regulations. AI algorithms have the capability to analyse vast amounts of financial data in real time, allowing them to spot unusual patterns and anomalies that might signify fraudulent activities or unauthorised access to sensitive information. By swiftly identifying these security breaches, financial institutions can take immediate action to mitigate the risks and protect customers' personal data from potential threats. This proactive approach not only helps in safeguarding the interests of customers but also enables financial organisations to meet the stringent requirements of GDPR.


This, in turn, helps them maintain trust and credibility with both – regulators and the public. Customers can feel assured that their personal information is being handled responsibly, and financial organisations can avoid potential fines and penalties associated with GDPR non-compliance.


In summary, when companies harness the power of artificial intelligence to identify, categorise, and oversee personal data, they stand to benefit significantly. This technological approach streamlines the strenuous reporting procedures, affording businesses more time and resources to dedicate to their core operations and strategic initiatives. What's more, organisations that adopt AI-driven solutions for GDPR compliance not only bolster their internal data protection protocols but also position themselves favourably in the market competition. This proactive stance can foster heightened brand loyalty and stronger customer retention, all while shielding them from the potential financial burdens of substantial fines and legal entanglements.